Summertime Saga Update Download Links:
Content Changed
Restored incest content: – Changed dialog for mother/sister/aunt – Replaced some edited images from earlier v0.14 Patch Changes: v0.2: Fixed locker background path v0.3: Updated to 0.16.1, added missing Roxxy dialogue
Patch Instructions
Download the "incestpatch.rpa" file, and move it to the "/game" directory On macOS this is located: "Contents/Resources/autorun/game" For Android: Install the game, run it once and close, save the incestpatch.rpa file to "/storage/emulated/0/summertimesaga", overwriting any previous patches
Download v0.16.1 Patch
Sister's Computer: BAD MONSTER
Porn Channel Sub: L6bv12R
Porn Channel Pass: 12345

Console Activation
——————
! Note: Messing around in the console can cause serious bugs, only enable console if you
know what you're doing and are happy to take the risk.

1) From the main game directory navigate to the renpy folder, then open the common folder
2) Find the 00console.rpy file and open with notepad++
3) Search for the line: # If true, the console is enabled despite config.developer being False.
4) Edit the line below from: config.console = False to config.console = True
5) Save and close the file

To open the console in game press: SHIFT + O
To close the console type in "exit" or right click

Cheats
——
– Stat increase (+1, Max 10):
Increasing stats via the console WILL cause bugs, as events will not fire (especially
around the sister story line) so these instructions have been removed.

– Set Money:
player.inventory.money=99999
Note: Android Users – uninstall old game version before installing this game version!!
Overview: After his father died leaving his mother, sister and him behind, their father's death though was suspicious and police investigated it. He also left the family a huge debt to some shady people in Summertime Saga Update . So now he has to look after them both plus find the people that caused his father's death, save for college and find a girl for prom.
Updated: 2019-05-03
OS: Windows, Mac, Android, Linux
Censorship: None
Developer: Patreon – Website – Wiki – Discord – Bug Report
Language: English
Summertime Saga Update is a high quality Dating Sim/Visual Novel game in development!
DarkCookie now has a team helping him deal with development of Summertime Saga Update Which means he can focus on the story, art and design of the game! The more pledges, the more time he can spend adding content to the game instead of working on his day job (freelance, mostly). He plans on doing a lotwith this game by continuing to add quality content and expand the universe (potential story expansions) over time so he's in this for the long run!

The game is free as of now but if you pledge a small monthly fee you can have access to the latest playable version of Summertime Saga Update , watch DarkCookie work via his video stream, read or post Patreon-only feed on content progression and you get to help him financially which is greatly appreciated..
NEXT UPDATE STATUS: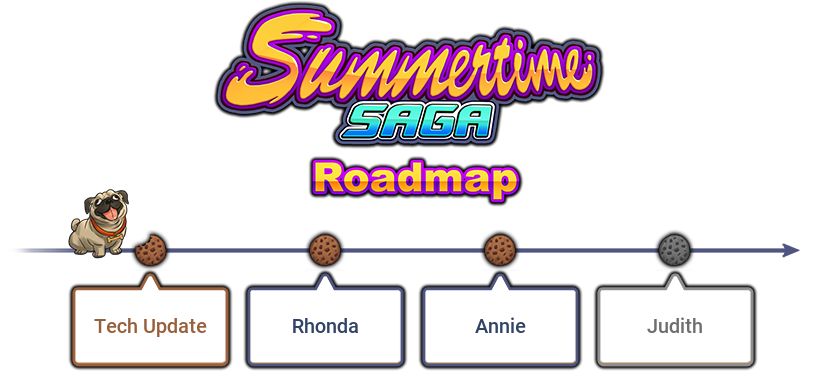 Changelog:
v.0.17.5:
New Features:
Earn interests weekly on your savings at the Bank! Interest rate is 3%
Beach House price has been reduced to $5000
Santa riding the streets of Summerville
Updated the Cookie Jar
New quests and cutscenes
New holiday decorations
Cupid store interface improved with new items
Added time skipping functionality to all front yards (direct children of the map, including MC's bedroom)
2 new achievements to unlock (they are secret achievements)
Added a toggle for save locking (if you really want to load an earlier save file)
– This is on by default, which means it will prevent you from loading an earlier save
– This has no menu option (that is intentional)
– To disable savegame locking, set persistent.enable_save_locking to False
Rework of the codebase:
New Martinez character art and rig
New Consuela character art and rig
Added label notification (enable from the debug menu – General) for debugging purposes
Added night version of the treehouse wood pile, the scroll at the hill and the stick at the hill.
New Characters:
Meet Consuela Martinez, on Thursdays at the Beach House
Remember that odd item from Diane's barn? You should start investigating
New sex scenes:
One new sex scene (2 angles and animations)
Bug Fixes:
Fixed save resetting when taking the Pregnax pills.
Fixed Diane being in the shed when entering for paint.
Fixed being able to check the school's lockers at night.
Pregnancies are now in sequence (and not in parallel). This is to still be able to see each character at the hospital, even if they get pregnant on the same day
Added missing lewd Diane closeup (drunk on her bed)
Fixed being able to start the school delivery (Diane quest) on the weekend.
Fixed Tony meeting you for the first time twice.
Fixed "Debbie's sleeping" dialogue triggering when Debbie isn't in her room for one reason or another.
Fixed incorrect button usage during Diane's evening visit (in Diane's story, not Debbie's)
Fixed hill tree screen not hiding
Fixed Diane's outfit being the wrong one during the pie quest.
Fixed Day 0 Sleep issue.
Fixed being able to exit the stolen goods screen without taking the key
Fixed daytime scene on using the workshop in the garage when it's night time.
Fixed time going back one tick if saving right after manually ticking time on the map/bedroom/etc
Fixed a bug that would trigger a night scene during daytime when entering the bedroom after watching a movie with Debbie for the second time.
Fixed a bug which caused Mia to lock you out of your sleep
Fixed a bug that caused Diane to never see you jack it.
Fixed an issue that caused Debbie to be forever naked by the pool, if you slept before bringing her a towel.
Fixed being able to craft the glue for Dewitt at night time
Fixed the game.timer.image() function. It now displays images correctly regardless of period (Christmas, Halloween, …), time of day and extra information.
v0.17.1
New Features:

Added the choice of vehicle to use in the pizza minigame. A more extensive rework of that minigame is planned for the 0.20 update.
Added a button to clear persistent data on the main menu.
Added a text for android users that entice to use the SwiftKey keyboard for an optimal experience. Click it to dismiss it.

Rework of the codebase:

Added Vector2 class for future usage in minigames and other purposes.

Bug Fixes:

Fixed the pregnancy minigame crash, and adjusted the chance of getting a character pregnant
Added win/fail backgrounds to pregnancy minigame
Fixed Exception due to invalid pose on diane's cookie jar scene 5
Fixed Exception on launch related to player not being defined
Fixed erik resetting on load/save
Fixed time not ticking after breed sex if not milking Diane
Fixed wrapping of words on the Cellphone Goal App
Removed keybinds for renpy voice narrator
Fixed diane ghost trigger on pie scene
Fixed bug "location_training" being undefined.
Removed ability to save in autosave slots
If default formatting was used in the save description, update when overwriting the save
Fixed overwriting saves losing data bug
Fixed missing arm in breakfast scene
Fixed AnimatedImages sometimes not being animated properly
Fixed player not being bumped to map when talking to aqua
Fixed incorrect call_screen at night when in Aqua's Lair
Fixed Report Card not updating
Dating list was not bugged. Its behavior is intended although inconsistent for characters without a story.
Fixed Diane's shirt dissappearing when talking to Richard
Fixed Diane switching clothes for a kiss in the barn
Fixed Veronica dissappearing when talking about Chicken Stock
Fixed Diane's arm misalignment when in her bra and panties
Fixed AR Device overlay misaligned on player's face
Fixed Debbie disappearing from Cupid
Removed Carpenter option from Diane's button dialogues pointing to missing labels
v0.17
New Locations:
Diane's home expansion
Hospital Third Floor
Annie's Home (Daycare)
New Character Events:
Smith event reworked
Diane's story
Minigames:
Milking minigame
Drinks minigame
Pregnancy minigame
New sex scenes:
Threesome with Debbie and Diane
Cucumber scene reworked
Breeding scene reworked
Tittyjob scene
Blowjob scene with Micoe
New Cookie Jar scenes added
New Features:
Pregnancy! (only for Diane at this point)
Missed audio note cue for the music minigame
Introduction of the new character rig system for optimisation
New character art and reworks for new rig system:
Diane
Lilly (Comic book store)
Micoe (Nurse)
Maria (Pizza)
Tony (Pizza)
Veronica (Consumer store)
Ronda (Swimming pool and school)
Priya (Hospital doctor)
Richard (Annie's father)
Lucy (Annie's mother)
Debbie (Partial rework, majority of old art still in game)
Jenny (Partial rework, majority of old art still in game)
Rework of the codebase:
Removed Diane's old code
Removed Jenny's old code
Bug fixes:
Fixed Mia not appearing at the library
Fixed crash on achievements list
Fixed long load time issues caused by Ren'Py 7
Fixed a bug which would prevent getting the glasses for Okita from Judith if you asked her to be somewhere else (same bug occurred on Mia with Bissette)
Fixed floating captain Terry
Pizza delivery minigame fixes
MOD & Extras: